WORKERS' COMPENSATION
BENEFITS
Standing Up for Rights of Injured Workers in Southern California
California Workers' Compensation Benefits
Standing Up for Rights of Injured Workers in California
Workers' compensation is a type of insurance that provides compensation for workers who have been injured as a result of their jobs. All employers in California are required to carry workers' compensation insurance, and they are required to pay benefits to injured employees. In addition to workplace accidents, illnesses that occur as a result of working are also eligible for workers' compensation benefits. To see whether you are eligible to file for workers' compensation, just call our office today. Se habla Español.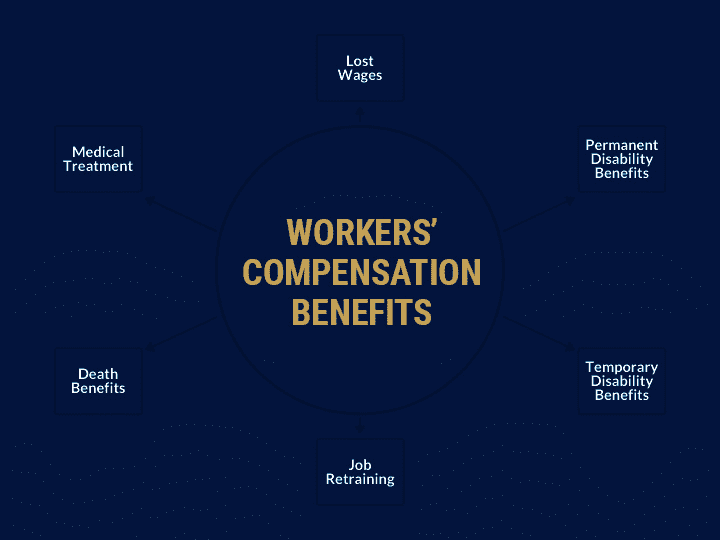 Worker's compensation can include the following:
Medical treatments for your injuries
Payments for missed wages while you are unable to work
Permanent disability benefits
Temporary disability benefits
Job rehabilitation or retraining, if applicable
Death benefits to surviving family members if the worker has died from the injury
Workers' compensation benefits will cover all costs related for your work-related injuries and for the entire duration of the injuries.
Fighting for the Injured of Southern California!
Call us 24/7 at (800) 980-6905 to find out how we can help you get the benefits or compensation you deserve.
Am I Covered Under Workers' Compensation?
Your workers' compensation coverage begins immediately the moment you begin working. Almost all California employees are covered under workers' compensation in California. There are a few exceptions, such as if an employee is an independent contractor. You can speak with our lawyers to see if your injuries are covered.
Do I Need a California Workers' Compensation Lawyer?
If you have been injured while on the job in Los Angeles, it is important to understand your rights and the benefits available to you through California's workers' compensation system. Unfortunately, navigating this complex legal process can be difficult without help from a knowledgeable attorney who specializes in workers' compensation law. A workers' compensation lawyer in Los Angeles will have an understanding of the laws governing worker's comp claims and can provide experienced legal guidance so that you receive maximum benefits for your injuries or illness. Furthermore, they may even be able to negotiate higher settlements amounts if necessary. Don't go it alone - get the help of an experienced professional today!
FILE YOUR CLAIM IN 5 EASY STEPS
We'll make sure your claim is filed quickly and accurately.
$4,400,000 Construction Site Accident

$1,500,000 Construction Site Accident

$850,000 Roofing Injury

$700,000 Chemical Exposure

$700,000 Office Work Injury
Our Settlements & Verdicts
Recent Case Victories
Construction Site Accident $4,400,000
Construction Site Accident $1,500,000
Roofing Injury $850,000
Chemical Exposure $700,000
Office Work Injury $700,000
Call Our Experienced Orange County Attorneys
If you have been injured at work Southern California, report the injury to your supervisor, seek medical attention, and call an experienced workers' compensation lawyer for help. Our team at Alvandi Law Group can help walk you through the claims process and handle all the paperwork from start to finish. All you need to do is focus on your recovery. To make this process easier for all families, we do not accept payment until after we win.
Call our firm at (800) 980-6905 to begin a free case evaluation. Speak with a skilled attorney today!
real client testimonials
What Our Clients Are Saying
These guys are amazing. Monica is my caseworker and she's prompt and always very responsive and intuitive.

- Steve B.

2 words= Sidney Sadeghi! I was looking for an attorney to represent me over the holidays and she was responsive and spectacular in every way imaginable. As a successful business owner, I have hired many attorneys over my lifetime and Alvandi Law Group....and specifically Sidney Sadeghi...you have my business for life. I have had a very positive and world-class 5-star experience. Thank you from the bottom of my heart.

- Goodman J.

This firm has inspired me in so many ways. They have helped many friends and family members of mine. Starting with the consultants to just all around the office. They really know what their doing and are great. I can see now that they have experience superior to others. People have left their other attorneys to come to this office. Including some close family of mine. I appreciate them. Thank you Alvandi Law Group!

- Anonymous

I'm a start by saying my Attorney Sidney Sadeghi is amazing! She kicked ass at my depo and settled my case. She did everything I asked, listened and more. Gil also is great, these people care for their clients! I will definitely recommend Sidney Sadeghi to everyone she one amazing applicant attorney!

- Maria M.