California Workers' Compensation Benefits
Standing Up for Rights of Injured Workers in California
Workers' compensation is a type of insurance that provides compensation for workers who have been injured as a result of their jobs. All employers in California are required to carry workers' compensation insurance, and they are required to pay benefits to injured employees. In addition to workplace accidents, illnesses that occur as a result of working are also eligible for workers' compensation benefits. To see whether you are eligible to file for workers' compensation, just call our office today. Se habla Español.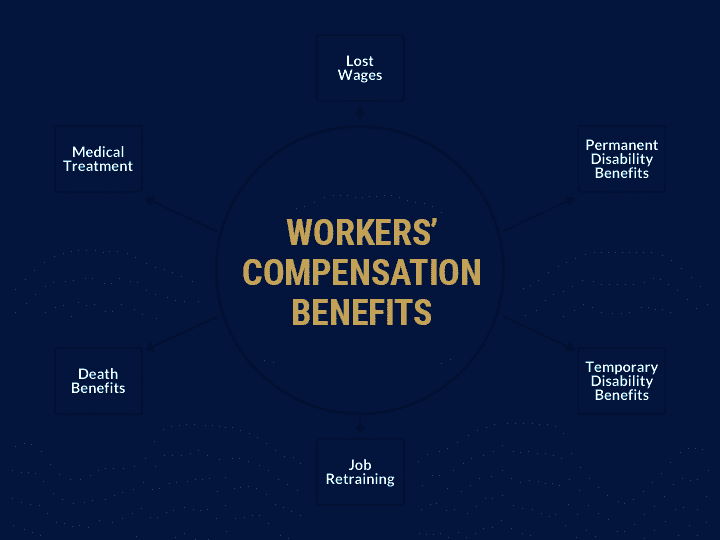 Worker's compensation can include the following:
Medical treatments for your injuries
Payments for missed wages while you are unable to work
Permanent disability benefits
Temporary disability benefits
Job rehabilitation or retraining, if applicable
Death benefits to surviving family members if the worker has died from the injury
Workers' compensation benefits will cover all costs related for your work-related injuries and for the entire duration of the injuries.
Am I Covered Under Workers' Compensation?
Your workers' compensation coverage begins immediately the moment you begin working. Almost all California employees are covered under workers' compensation in California. There are a few exceptions, such as if an employee is an independent contractor. You can speak with our lawyers to see if your injuries are covered.
Do I Need a California Workers' Compensation Lawyer?
If you have been injured while on the job in Los Angeles, it is important to understand your rights and the benefits available to you through California's workers' compensation system. Unfortunately, navigating this complex legal process can be difficult without help from a knowledgeable attorney who specializes in workers' compensation law. A workers' compensation lawyer in Los Angeles will have an understanding of the laws governing worker's comp claims and can provide experienced legal guidance so that you receive maximum benefits for your injuries or illness. Furthermore, they may even be able to negotiate higher settlements amounts if necessary. Don't go it alone - get the help of an experienced professional today!
How to Find a Workers' Comp Attorney
Injured while on the job in California? It is essential that you find a knowledgeable attorney who specializes in workers' compensation law, so you can receive maximum benefits for your injuries or illness. With their help, you can ensure that all aspects of your case are handled properly and efficiently. Here are some tips on how to find the right workers' compensation attorney in Los Angeles:
Identify the type of injury suffered: In order to find a workers' compensation attorney that can best assist you, it is important to first identify what type of work-related injury or illness you have sustained.
Research attorneys specialized in workers' compensation law: Once you've identified your injury, look for lawyers who specialize in workers' compensation cases and ask them questions about their experience handling cases similar to yours.
Check qualifications and reviews: Review the qualifications and reviews of any attorney before engaging them in legal representation. Look for these workers' compensation attorneys on online resources such as Avvo or Yelp for ratings from former clients. Check out sites like Lawyers.com for background information about an attorney's area of expertise or reputation within the legal community.
Interview potential attorneys: Before hiring an attorney, make sure to interview a few different ones, so you can get a feel for how they handle cases. This will also help you find out if they have enough knowledge on the subject matter that applies to your case.
Make sure all fees are transparently discussed beforehand: When interviewing potential attorneys, be sure to inquire about their fees upfront so there won't be any surprises down the line with unexpected costs associated with your case.
Call Our Experienced Orange County Attorneys
If you have been injured at work Southern California, report the injury to your supervisor, seek medical attention, and call an experienced workers' compensation lawyer for help. Our team at Alvandi Law Group, P.C. can help walk you through the claims process and handle all the paperwork from start to finish. All you need to do is focus on your recovery. To make this process easier for all families, we do not accept payment until after we win.
Call our firm at (800) 980-6905 to begin a free case evaluation. Speak with a skilled attorney today!
I would go as far as to say this is the best firm to choose in Orange County.

- Robert G.

Jessica fought for him, for our family, from the very first day to the end.

- Wendy A.

Highly recommend this law firm to anyone in need of legal experts.

- Venesa A.